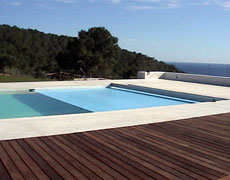 The guarantee starts from the commissioning date. It covers materials, parts, labour and travel within the time limits set out below.

DURATION :

Two years on electrical equipment (motor, transformer and control). Three years on Slats, Straps and Mechanical Equipment.

EXCLUSIONS :

Damage caused by the absence or incorrect operation of an overflow or automatic top up system. Damage caused by immersion of the motor, over voltage or lightning (Electrical equipment). Breakage or deformation of the slats. Damage due to hail, flood, storm or disaster. Expenses arising from the intervention a person not authorised by us.

IMPORTANT :

Validation of the guarantee is conditional upon the return to the installer or return to us within eight days of the Part to be returned to us. Guarantee confirmation will be confirmed by letter. No guarantee work can be required before the payment of all sums due. For correct use of the cover, it is essential to read the operating instructions that will be provided to you. In the event of dispute, the courts of Namur shall have sole competence.